Font Size
content body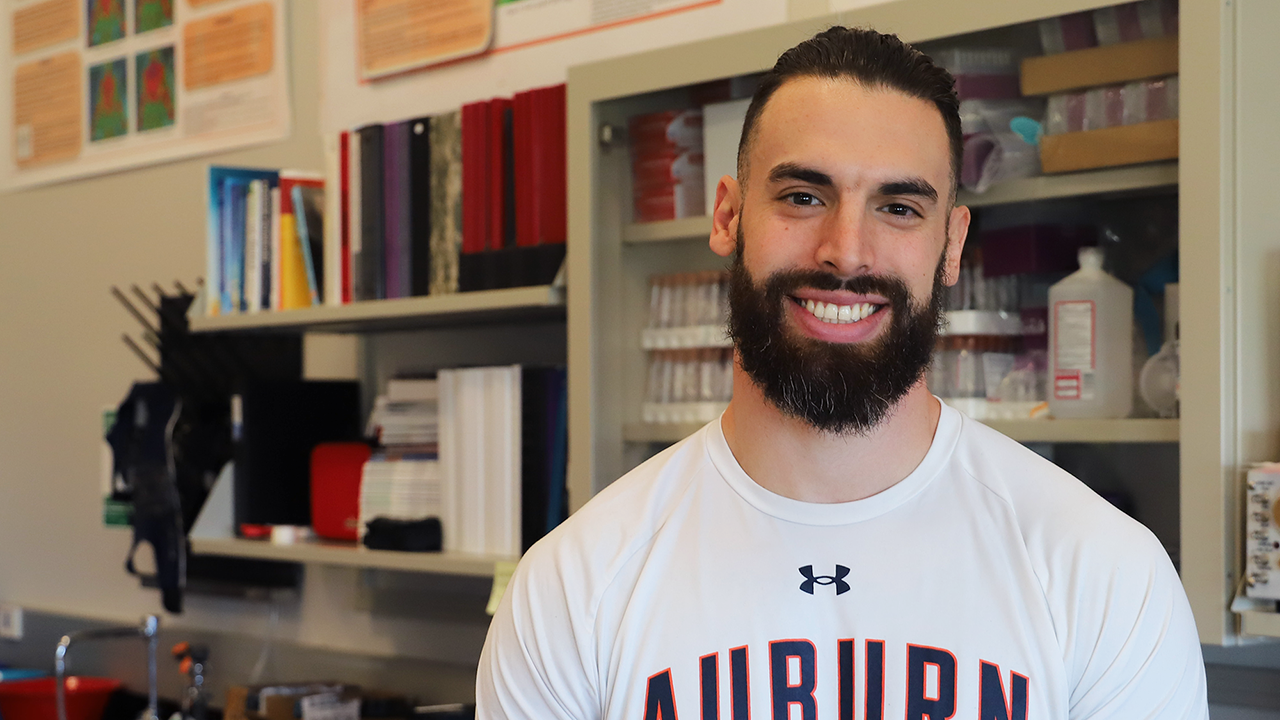 Student veteran Jordan Ninde fell in love with Auburn when he was 10 years old. It may have taken 20 years, but his Auburn dreams are coming true.
In 2003, Jordan Ninde chose Auburn University as his team in a video football game. At 10 years old, he had no way of knowing how much that decision would impact his life and that it would lead him to the Plains nearly 20 years later.
"My adoptive dad and I used to play this college football game all the time, but I could never beat him. I told him the first team I won with would become my dream school," he said. "The day I picked Auburn was the day I beat him."
In the years after that victory, Ninde struggled with school and his home life in Indianapolis, Indiana.
"I was a terrible student growing up," he said. "I had a 1.7 GPA in high school. I was what you'd call a troubled youth. So, I went into the military to get my head on straight—and then after I got out, I came here."
Ninde, now 30 years old and a senior exercise science major, joined the U.S. Marine Corps a few months after his high school graduation. He spent the next almost decade racking up deployments and experiences that couldn't be more different from those of typical college students.
His daughter was born just prior to his fifth deployment, and that's when Ninde knew it was time to make a change.
"I was 26 years old in the middle of Iraq with no idea of what I wanted to do," he said. "And then I got hurt and went to physical therapy. I fell in love with how the body works so perfectly and I knew this is what I want to do."
Phil Agostinelli (left), doctoral candidate and graduate teaching assistant in the School of Kinesiology, works with Jordan Ninde, student veteran and senior exercise science major, in the Warrior Research Center.
His affinity for Auburn may have begun while playing a video game as a child but it was the reputation of the School of Kinesiology's research, professors, academic innovation and alumni that drew him to Auburn's campus as an adult. In 2020, Ninde left the USMC and moved from California to Auburn—a place he had never been and where he knew no one.
After he graduates in May, Ninde will begin a master's program and hopes to gain acceptance into the first cohort of the new Doctor of Physical Therapy program in 2025.
In addition to being a full-time student and father, Ninde is also the co-owner of a local gym, aptly named, Grit; no surprise from someone who is taking physics as an elective.
"When I graduated from high school, I would've had no business coming to Auburn or even just being in college," he said. "But now, I'm finishing my bachelor's degree, moving on to a master's degree and then hopefully a doctorate. I want my daughter to see that she can do just about anything. That's what drives me now—changing the trajectory of my family's life."
Later this month, Ninde will join other student veterans at Auburn and the University of Alabama Campus Veterans Association in Operation Iron Ruck, a 151-mile road march to raise awareness and aid in the prevention of veteran suicide. Auburn's College of Education is sponsoring Operation Iron Ruck and has become an academic partner for the Auburn Veterans Resource Center and Auburn Student Veterans Association.