Font Size
content body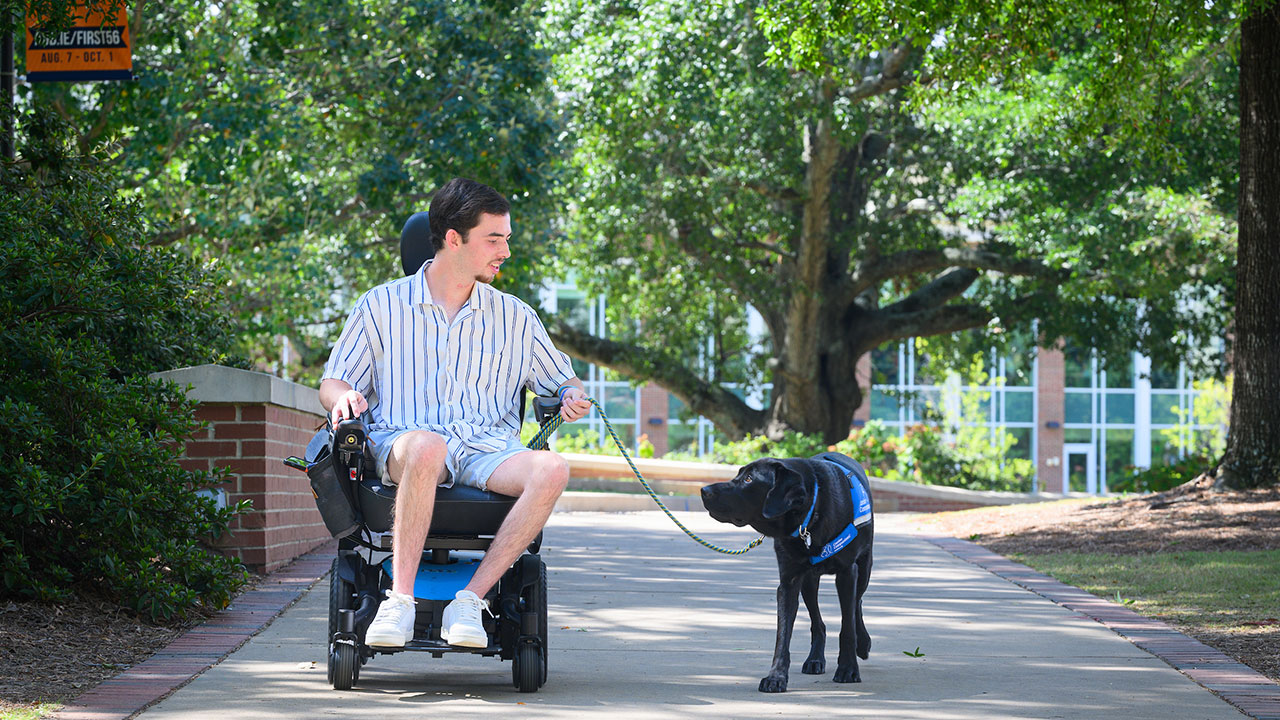 Senior journalism major Noah Griffith and his dog, Schooner, enjoy a nice day on Auburn University's campus.
Not all those heading to class at Auburn University these days are traditional students.
Some "students" of the four-legged variety are there to help particular Tigers navigate their way through the sprawling campus and maximize their potential while pursuing their dreams. Coordinated through the Office of Accessibility, Auburn's service dogs are able to accompany their student pals to class and events on a daily basis.
Students are able to utilize their canine companions for physical and emotional support in varying ways as they traverse the Plains on their Auburn journeys. In honor of September's distinction as National Service Dog Month, here's a look at a trio of Auburn students and their service dogs, who serve several roles in their lives.


Liyah Stewart, a U.S. Army veteran, gets an assist from her service dog, J.R., as she pursues her pharmacy degree.
Liyah and J.R.
U.S. Army veteran Liyah Stewart is in her second year of the Harrison College of Pharmacy program on the Plains, and she enlists the services of a 7-year-old cur-labrador mix named J.R. Together since 2020 through K9s for Warriors, Stewart and J.R. can be seen on campus as she works toward her pharmacy degree.
"I knew when I was real young that I wanted to go into the medical field," said Stewart, who interns at a local Walgreens in addition to her studies. "I used to watch all the Discovery Health TV shows, and I originally wanted to be a physical therapist, but the Army didn't have that as an option. I told my recruiter I wanted a good job doing some good [for others] when I got out, and they told me there was a space open for a pharmacy technician. My time in Korea as a technician was really what drew me to love pharmacy, and I realized it was my calling."
Stewart, a California native who was enlisted as a pharmacy technician from 2013-19, suffers from post-traumatic stress disorder (PTSD). Stewart began looking for a four-legged companion shortly before starting school at Auburn in 2019 and found J.R. through the Florida nonprofit. He serves as a calming influence when situations become stressful, and he has helped Stewart re-enter society on a more consistent and thorough basis.
"He's everything I didn't know I needed, to put it simply," Stewart said. "He's kind of a Jack of all trades, and he watches my back. He helps me be more aware of my triggers, and he recognizes the situation before it gets to a point of no return for me. I didn't realize how little I left the house until I got him, and I've been able to have more hobbies like rollerblading and hiking and have traveled a lot more since I got him."
Pharmacy student Liyah Stewart and her service dog, J.R., love to spend time traveling and hiking when not working hard on campus.
J.R.'s astute senses and keen awareness make him a perfect companion for Stewart. She said when he's wearing his service dog vest, he knows he's at work and carries a different personality than when they are at home "off the clock."
"He knows the difference when he's in the vest and when he's not," said Stewart, who has even taken J.R. to Disneyland. "He's perfect for me, because he's so quiet and so calm. I pay close attention to him, and if he's concerned, then I get concerned."
Service to the country came naturally to Stewart, whose mother, Radiah, and stepfather, Robert, both served in the U.S. Army. She is the oldest of four children, three of whom have served in the U.S. Army. Now with J.R., she feels empowered to finish her degree and make an impact in the world after graduation, and Auburn has been a welcoming place where she feels she has the ability to reach her full potential.
"J.R. is the first service dog to go through the pharmacy program at Auburn," said Stewart, a past Auburn Student Veterans Association president who is set to graduate in 2026. "So, it's been a growing experience for them as well, but everyone at the college has been amazing."
Pup tales
Name: J.R.
Age: 7
Breed: Cur-labrador mix
Allowed to pet him?: No, thank you
Personality: Serious, quiet and observant (when working)
Favorite treats: A smoked ostrich bone on his birthday (Sept. 15) and occasional trips to PetCo's Pet Spa


Noah and Schooner
For senior journalism major Noah Griffith, his 2-year-old black labrador-golden retriever mix Schooner is a boost on both the physical and social fronts. Griffith has suffered from Friedrich's ataxia (FA) — an inherited disorder caused by a gene defect that affects the body's nerves — since the age of 16 and requires a walker or wheelchair for mobility.
"He's just such a good, calm and well-behaved dog that can go in pretty much any environment," said Griffith, who hails from Phenix City, Alabama. "I use a walker a lot of the time, and he doesn't pull me over and doesn't forge ahead — things that a normal dog might do. I have poor balance and coordination because of my disease, and he's not going to knock me off my feet."
Griffith has utilized Schooner's training, which came from Canine Companions for Independence, since the two were connected in February to help him in several ways.
"His purpose physically is to help me conserve energy, because I do have fatigue," said Griffith, who covers high school football for the Opelika Observer. "He can follow some commands, pick up dropped items, push door buttons and we're working on him being able to turn the lights off and on. There are more commands we'll work on as my disease progresses, but for now, he's just a great companion and a good dog to have around."
Having a service dog also has had a positive impact for Griffith on an interpersonal level.
"Socially, he can be a good conversation-starter, and he also helps take people's attention off my disability," said Griffith, a former sports reporter for The Auburn Plainsman student newspaper. "It's just a much better way of starting interactions with people, who might not know what to say to me because I have a wheelchair or walker. Instead of strange looks or stares, I get people smiling at my dog, which feels good."
Auburn senior journalism student Noah Griffith and his four-legged companion Schooner tag-team their way around campus.
Griffith's efforts to improve accessibility on campus have been well-documented by the College of Liberal Arts, and he hopes to lay a foundation for students with disabilities who may follow him to the Plains.
"I feel like what I've been through at Auburn with my situation is unique," said Griffith, who hopes to carry his journalistic exploits to the next level as a sportswriter. "Maybe it will serve as an eye-opener and will set a path for future students who may have a disability and don't even know about the opportunity to get a service dog. I feel like maybe I'm setting an example in that way, and I don't feel like I have fewer opportunities than other students.
"My professors were very accepting and never questioned me bringing him to class. It's a special circumstance to have a dog in your classroom, but they've been really great."
Schooner — who knows he's "on the job" when he's wearing his vest — is the perfect companion for Griffith. He has taken the pup to sporting events and church, in addition to his classes.
"I don't feel like I'm alone, my classmates all greet me and greet him, and it just makes simple things more fun," he said. "Everyone likes well-behaved dogs, and he's very friendly."
Pup tales
Name: Schooner
Age: 2
Breed: Black labrador-golden retriever mix
Allowed to pet him?: Yes, please
Personality: Friendly and laid back
Favorite treats: An occasional "Puppuccino" from Starbucks
Cross Thomas, who will soon be majoring in hospitality management, has a furry friend in Saddler helping him on his Auburn journey.
Cross and Saddler
Anyone on campus who has spotted a friendly golden retriever sporting an Auburn baseball cap has seen Saddler, a service dog that accompanies freshman Cross Thomas to class.
Saddler — a mere pup at 1 1/2 years old — has become a regular on the Plains as he tail-wags his way to and from campus buildings with Thomas, soon will be a hospitality management major. The duo even made it onto Auburn's main social media channels and the university website on the first day of the semester after catching a ride to class with President Christopher B. Roberts.
"When the president shows up and offers you a ride, you don't say no," said Thomas, a Jacksonville, Florida, native. "Mornings on the concourse, Saddler's the happiest boy out there and just has a huge smile on his face, and you can tell he's just happy to be there. He's just such a comforting presence for me and other people. They can pet him, and it makes their day.
"Everybody walking by is smiling when they see him, which is so nice to see."
Saddler — a dog with his own Instagram account — serves as a buffer for Thomas, a calming presence that helps keep anxiety and stress at bay.
"He helps me with anxiety in class, and he does a really good job with that," said Thomas, whose sister, Ireland, graduated from Auburn in the spring. "If I start feeling it build up before he alerts to it, he has a command and he'll put his paw on you and make sure you're OK. That physical aspect takes the anxiety away.
"He is always willing to love on people and let them pet him. I really appreciate everything he does, and I have a very special bond with him."
Auburn freshman Cross Thomas and his hat-wearing service dog, Saddler, are a popular tandem on campus.
Thomas trained Saddler himself, following proven service dog guidelines and training regimens closely as the two bonded and grew together.
"I stuck to a program and did a lot of research about how he needs to be trained and the things he needs to know," Thomas said. "I saw a need for him in my own life. A good thing about training him myself — he could develop his personality, and I could learn it and him."
Having a happy dog on campus also has helped Thomas make friends and feel welcomed as part of the Auburn Family.
"As a freshman, it is so hard to meet people and awkward to get conversations going, and having him there takes away that social anxiety," said Thomas, an Auburn High School graduate. "It's given me the opportunity to meet so many cool and interesting people."
Implementing Saddler into campus life, Thomas said, has been seamless because of the way everyone has welcomed them both.
"It was so easy to get plugged into stuff," said Thomas, who hopes to qualify for the Auburn University Cheerleaders squad. "All of my teachers, if they have a seating chart, have made it super easy for me to sit in class and have space for him. Some places, I feel like there could be a lot of walls or hoops for you to jump through, but they have made it so easy and welcoming to have him on campus. Auburn and the environment here have made it easy for that to happen."
Thomas is optimistic about his future on the Plains and beyond, and his furry buddy is a big part of that.
"He's a wild man sometimes, but he comes through when he needs to," he said. "It also helps to take away the stress and anxiety when he's doing something goofy like rolling in the grass and making people laugh. It can be difficult living with a dog, especially as a college freshman, but even with the most difficult parts, I wouldn't trade it for the world.
"He's just such a joy in my life."
Office of Accessibility
Coordinated through the Office of Accessibility, Auburn's service dogs are able to accompany their student pals to class and events on a daily basis.
Learn more
Pup tales
Name: Saddler
Age: 1 1/2
Breed: Golden retriever
Allowed to pet him?: Yes, please
Personality: Playful and inquisitive
Favorite treats: Chicken-flavored treats from Costco