Font Size
content body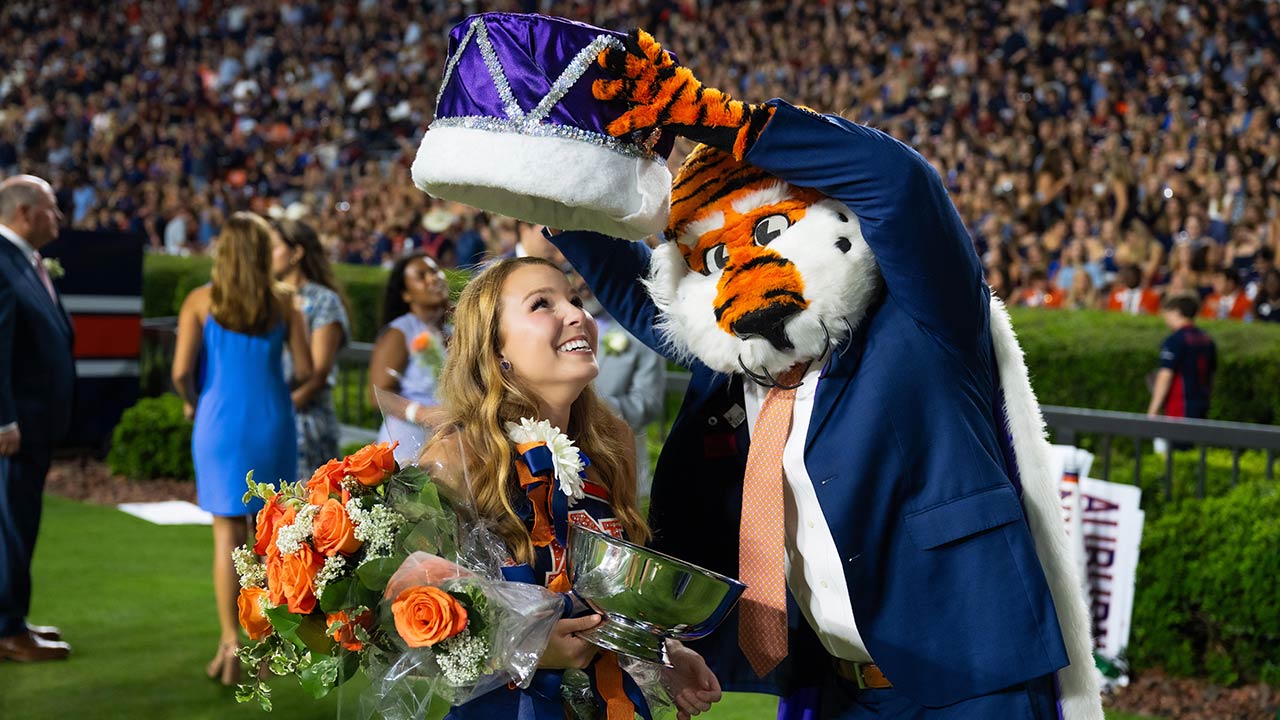 Aubie crowns Huntsville native Ellie Korotky as Auburn's Miss Homecoming 2023. Korotky also is the captain of the Tiger Paws and a senior working toward her bachelor of science in nutrition and dietetics.
Decked out in her miniature Auburn University cheerleader uniform, Huntsville native Ellie Korotky, age 6, cheered with such heart and fierceness at the 2008 Auburn Homecoming game that her alumni parents started calling her "The Auburn Monster."
"I'm a nice monster, but I love Auburn with everything in me," she said, laughing. That tiny six-year-old is now the newly crowned Miss Homecoming 2023, captain of the Tiger Paws and a senior working toward her bachelor of science in nutrition and dietetics. She has her heart set on a career as a sports dietitian – all while maintaining her Auburn monster moniker.
Dancing toward nutrition dietetics
The dancer grew up loving sports, especially Auburn football, and was inspired to study nutrition and dietetics in the College of Human Sciences by a former coach who made nutrition education a priority during training. She became fascinated with how nutrition done right can fuel and change an athlete's performance.
"During my time as a nutrition dietetics major, I interned with Auburn Athletics and the football team where I got to see nutrition behind the scenes. Now I know that that's what I want to do," Korotky said. 
The nutrition dietetics program at Auburn dates back to 1921. It prepares students like Korotky who want to become a Registered Dietitian (RD) or Registered Dietitian Nutritionist (RDN). Following graduation, Korotky will head to graduate school in preparation for the National Registration Examination for Dietitians and work toward her RD/RDN credential.
"Sports dietitians help the athletes. Let's say they're on weight gain. You're helping them figure out how they can build muscle and build weight in a healthy way. Or let's say that they're dehydrated. You can figure out the best way to help them maintain peak hydration, even during those games that are so hot," she said. "Nutrition and dietetics goes hand-in-hand with strength and conditioning. I made their protein shakes so that after they work out they're getting that protein in, they're rebuilding the muscle. It's a really cool science."
Korotky shares that science as captain of the Tiger Paws. She makes sure her teammates are taking care of themselves so they can perform their best.
"I gave everyone on the team a hydration sheet and challenged them to drink a gallon of water every day," she said. "Football games are hot in Alabama. We're dancing and standing every single second of the game in between every down and with the band songs. It's really important for the team to understand how the body works so that we're taking care of our nutrition and hydration."
Nutrition and dietetics is a challenging program, but Korotky has found support from her professors and in her belief in the Auburn Creed that comes back to the heart of what human sciences is all about.
"It comes down to helping people. If you have a heart for helping people, while also enjoying and learning about science and the human body, it is a major you'll use every single day," she said.
Recruiting new members of the Auburn Family
Korotky was nominated for Miss Homecoming by her sorority Alpha Omicron Pi. She ran on a platform designed to raise awareness about individuals with Down syndrome, inspired by her cousin. She hopes to take the campaign beyond Homecoming week.
"I've been an Auburn fan my entire life, and so I never knew growing up that I would be able to represent Auburn in this unique and rewarding way," she said. "I'm so proud to represent Auburn and hope that I can perhaps help draw more awareness about Down syndrome and promote programs like The Exceptional Foundation and Best Buddies even though the Homecoming campaign is over."
Beyond being a leader as Miss Homecoming and her Tiger Paws team on the sidelines, Korotky is a student recruiter leading campus tours. She's there to support prospective students and answer their questions, but during Homecoming week, it was the Auburn Family that supported her.
"The Auburn Family really came together and had my back," she said. "I was giving a campus tour, and it was crazy having other students I don't even know come up and say, 'I'm supporting you this week. Hey, you got it. What can I do for you? How can I be there for you?' That's rare. I actually told my tour that day that the Auburn Family and our traditions should immediately convince them to come to Auburn. They got to see it in action."
The Auburn Creed, especially the emphasis on the human touch, drives Korotky in her leadership roles, her life and her academics.
For the prospective students she shows around campus, she has this advice: "Work hard, put the effort in and know that the Auburn Family will always have your back."