Font Size
content body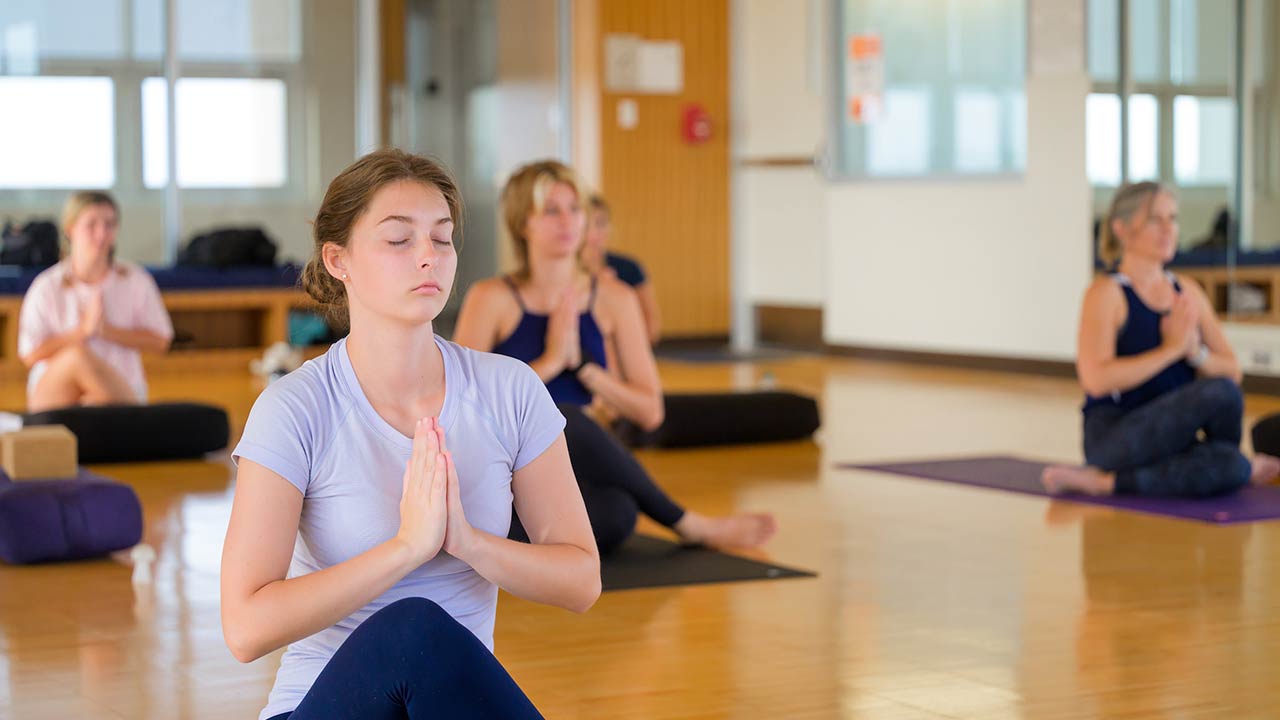 A yoga class is held in the Auburn University Recreation and Wellness Center.
As World Mental Health Day is observed today, Oct. 10, Auburn University wants those in the community to know how it is responding to the needs of the Auburn Family and the public at large in the way of research and outreach services. 
A primary point of help can be found on Auburn's campus through the Student Counseling and Psychological Services (SCPS) department, which addresses students' personal and mental health. 
In tandem with Auburn's Employee Assistance Program, there also are two training clinics on campus that Auburn staff and faculty can use. 
"Seeking assistance for mental health concerns is much less stigmatizing than in the past," said Doug Hankes, Auburn's director of Student Counseling Services. "For those students who may be reluctant to contact SCPS, I encourage them to treat their contact with SCPS as a consultation rather than a commitment to ongoing therapy. Most students are surprised at how comfortable they feel once they've met with one of our staff."
Nadia Bhuiyan, the director of the AUPSC and associate clinical professor in the Department of Psychological Sciences, is pictured in the clinic where she works with students to deliver evidence-based care to members of the community.
The time is now
Hankes said the time for Auburn students to take advantage of such resources is now.
"As an Auburn University student with access to SCPS, this may be the easiest and most convenient time in their lives to access mental health resources," he said.
Students can call 334-844-5123 to schedule an intake appointment or walk in to one of two SCPS locations: the second floor of the Auburn University Medical Clinic or the ground floor of Haley Center. All services at SCPS are confidential. 
For the community at large, the Auburn University Psychological Services Center (AUPSC) is available as a training clinic that provides therapy and assessment services for children, adolescents, adults and families in the Auburn-Opelika area. The mission of AUPSC is to provide quality mental health services to the community, train future professionals and further knowledge through research. 
Nadia Bhuiyan, director of the AUPSC and associate clinical professor in the Department of Psychological Sciences, said the clinic implements treatments backed by research. Graduate students gain expertise and training, while providing evidence-based and culturally-responsive care to clients, which is a strength of the AUPSC.  
"It's really exciting to see how collaborative and thoughtful our graduate student clinicians are working with each of their clients to achieve their goals," she said. "They are effortful in developing strong and warm working relationships, and you see these relationships really flourishing across treatment."
Bhuiyan said AUPSC's Assistant Director, Jordan Burko Macatee, and clinical supervisors are integral to fostering this supportive environment among students and clients.
Additionally, the Auburn University Marriage and Family Therapy Center offers help via a training clinic. 
Auburn even employs the expert help of Drs. Moose, Nessie and Rooster – therapy dogs – who are often available for outreach events on campus and participate each fall and spring in a "Get Mov'in with Moose" 3-mile walk around the Auburn campus. For more information about Drs. Moose, Nessie and Rooster, visit their webpage.  
Eric Smith, Auburn's executive director of Recreation and Wellness, also touts Auburn's student-run chapter of the advocacy group Active Minds, which is a nonprofit that seeks to support mental health awareness and reduce stigmas surrounding mental health through outreach events and fundraising for suicide prevention efforts. 
"Our chapter here is vibrant, award-winning and does some amazing things," Smith said. "And through some of the leadership and some of the push they've had, we've actually been voted one of the healthiest campuses in America. And a large hallmark of that is the advocacy that that group does."
Auburn employs the expert help of Drs. Moose, Nessie and Rooster – therapy dogs – who are often available for outreach events on campus.
The balance of mental, physical health
Ultimately, Hankes and Smith said physical and mental health go hand in hand and should be treated with equal importance.
"Many depression and anxiety-related issues respond to consistent exercise as effectively as medication. Exercise is frequently recommended by the SCPS staff as part of treatment planning," Hankes said.
Smith said improving lives is a key goal of the Auburn University Recreation and Wellness Center. And a sign in the counseling center serves as a mantra to how that can occur: "Change is a good thing," it reads.
"Our mission — what we're trying to do through our people, through our facilities, through our programs — is change people's lives for the better," Smith said. "And at the end of the day, that's a noble cause and one we really embrace and one we want to do to the best of our ability. And I certainly would love to play a role in people at this university changing their lives for the better through our offerings."
Chris Correia, professor and chair of the Department of Psychological Sciences, has led brief interventions with thousands of Auburn students to help them reach their substance use goals.
Conducting cutting-edge research to benefit the community
Auburn researchers, including faculty within the Department of Psychological Sciences in the College of Liberal Arts, are conducting research studies on wide-ranging mental health topics with the goal of improving lives, from college students to community members.
"We're trying to make sure that we're conducting research that speaks to the needs of diverse individuals," said Chris Correia, professor and chair of the Department of Psychological Sciences.
Correia celebrates the successes and game-changing research of faculty within the department. For example, he said one active area of grant-funded research occurs within the Auburn Eating Disorders Clinic where faculty members, including Assistant Professor Tiffany Brown and April Smith, are examining the connection between eating disorders and a breadth of topics, including suicide and perceptions of masculinity.
Faculty are not only generating basic science insights; they also are working to better understand how mental health conditions might impact different regions of the brain. Correia said many faculty members in the department are using magnetic resonance imaging (MRI) and electroencephalogram tests in their work.
In advancing this line of research, Correia said psychology researchers are leveraging cross-disciplinary resources by conducting studies with the Samuel Ginn College of Engineering within the AU MRI Research Center.
"This research is really trying to impact not only our understanding, but come up with more targeted treatments," Correia said.
Translating basic science insights into applied mental health treatments is a common aim throughout the department. To this end, Correia focuses his research on substance abuse among college students. Among his findings, Correia's research suggests that adopting alternative behaviors, such as exercise or creative activities, can help reduce substance use. 
Since 2002, he has put his research into practice with thousands of Auburn students on campus. Correia, or members of his team including graduate students, conduct brief interventions with students, which entails meeting with them one-on-one to learn more about their goals. 
"We'll interview a student and collect a bunch of data on their substance use, their broader mental health and other areas of functioning, like their social relationships," he said. "We'll get a sense of what their substance use looks like." 
Once Correia and his team understand a student's goals, they develop a personalized plan that often emphasizes adding positive activities to a student's schedule. For example, if a student is aiming to reduce alcohol use, their team might brainstorm non-alcoholic replacement activities on campus over the weekend. 
"Different students have different goals, and we're willing to meet students where they are," he said. 
This openness and acceptance that Correia and his colleagues employ in their research are broader themes of World Mental Health Day, which Correia describes as a "phenomenal effort" to help reduce stigma and raise awareness about mental health.
"Awareness is key to the early detection, assessment and treatment of any kind of condition, whether it be a physical or a mental health condition," Correia said. "We don't want people to suffer alone. We want people to recognize that their mental health concerns are legitimate and can often be addressed through treatment."