Font Size
content body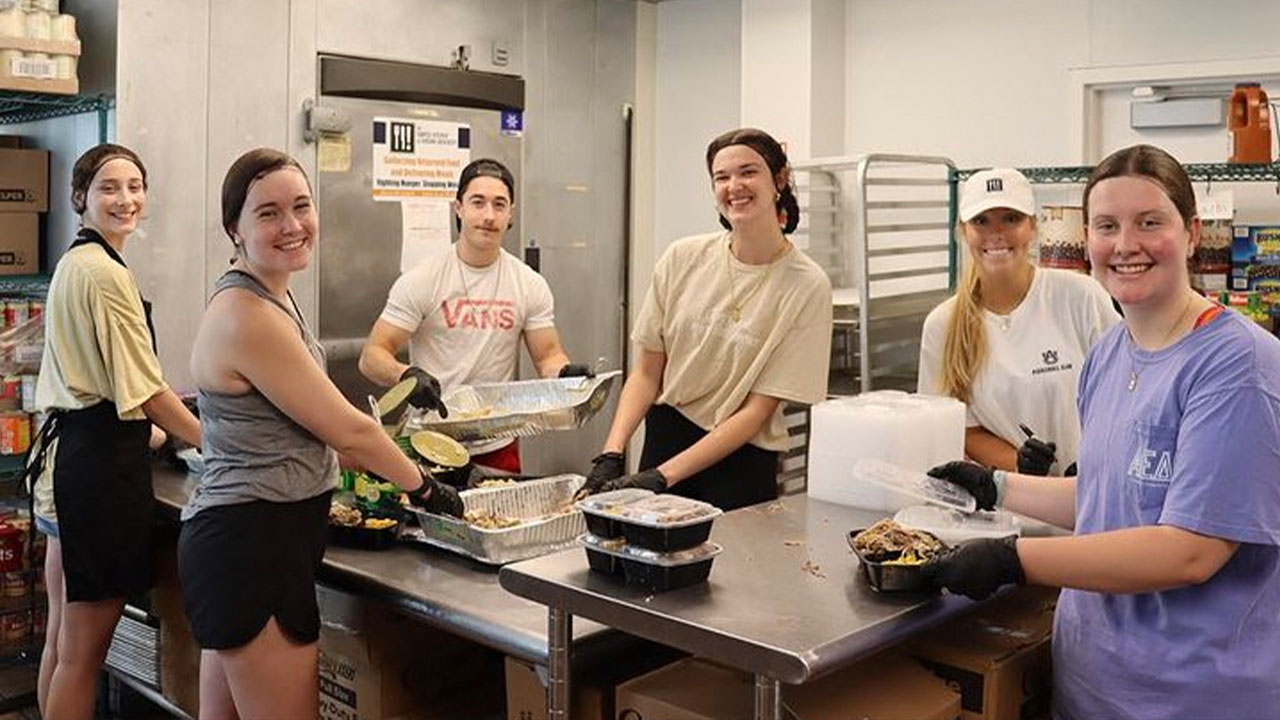 Campus Kitchen is a volunteer force of more than 300 students working to combat food insecurity. Students work in shifts to plan menus, pick up the food from the dining halls and deliver meals on campus and off.
It's a Monday afternoon and student volunteers gather in Lupton Hall for their shift. As they arrive, a shift leader puts them to work assembling meals and preparing pans of food for service. Soon, they'll deliver meals to Auburn community members and in Lee County. This is the Campus Kitchen at Auburn at work.
Campus Kitchen is a volunteer force of more than 300 students working to combat food insecurity, defined by the USDA as a "lack of consistent access to enough food for every person in a household to live an active, healthy life." Formed in 2011, this student-led non-profit organization recovers excess food from on-campus dining halls and repackages it into nutritious meals. Students work in shifts to plan menus, pick up the food from the dining halls, and deliver meals on campus and off.

Auburn Family Meal

"We usually pick up about 1,000 pounds of food a week and deliver about 800 to 900 meals a week," said Elise Fitzgerald, president of the Campus Kitchen at Auburn. A lot of those meals are delivered on campus. "Auburn Family Meal is where students and faculty at Auburn University can come sit-down or grab take-home meals, no questions asked."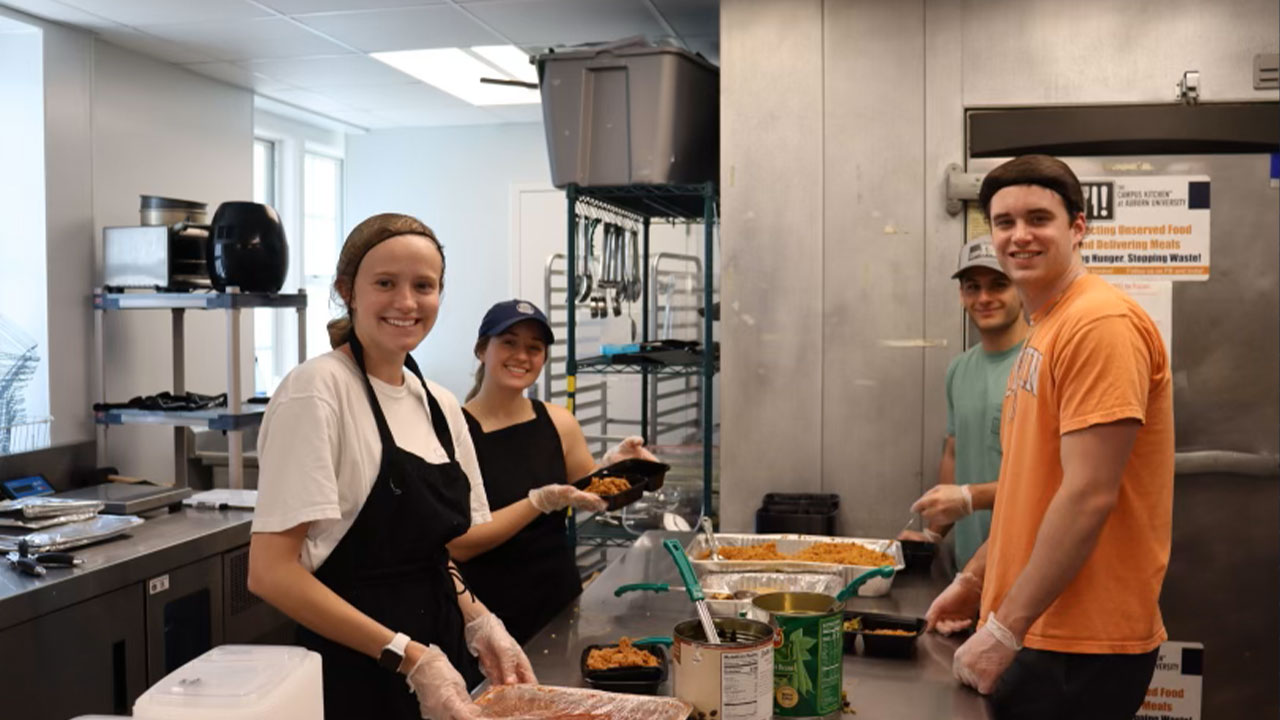 Volunteers are the lifeblood of Campus Kitchen as they plan meals, gather and package food and deliver it on campus and off.
Campus Kitchen hosts Auburn Family Meal Monday, Wednesday and Friday from 5:30- 6:30 p.m. in Lupton Hall. In addition, students may visit the Campus Food Pantry, open Monday through Friday to stock up on nonperishable items.

A biomedical sciences major on a pre-med track, Fitzgerald is passionate about the connection between food and health.
"The correlation between having access to healthy food and health care is essential," she said. "Being malnourished can really affect a lot of different health problems, in college, and especially down the road when you get older."
Approximately 30 percent of college students at American schools are food insecure — and Auburn is no exception. Research shows that lack of access to healthy food can lead to depression and anxiety, malnutrition, poor academic performance and higher dropout rates. Campus Kitchen, the Office of University Outreach and Campus Dining work in tandem to increase access to nutritious food.
"We were able to renovate the spaces where the Campus Kitchen and the Campus Food Pantry are located with a grant that we received from our partner Aramark. We have specific language in our contract with Aramark that requires that unserved food be donated to Campus Kitchen," said Glenn Loughridge, director of campus dining and concessions. "Sometimes food insecurity can be hard to spot at Auburn, but it's there.
It's part of our mission to make sure everybody gets fed every day. Our partnership with Campus Kitchen is really important in making that happen."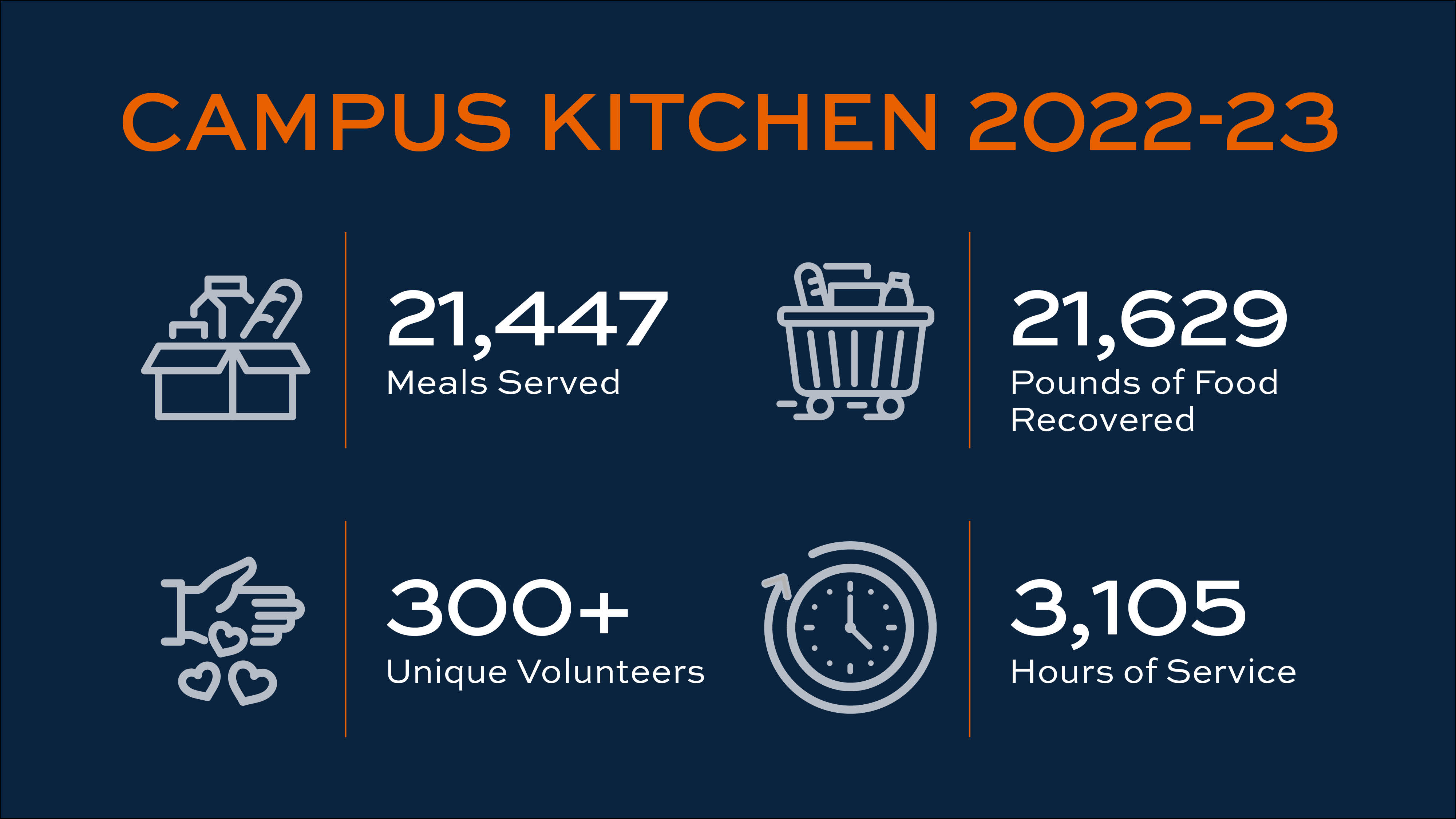 Campus Kitchen has made an impact on campus and off.
Feeding the Community
Campus Kitchen also delivers meals off campus to the Auburn and Lee County communities. It partners with the Food Bank of East Alabama, Meals on Wheels and area churches to deliver to food insecure. Feeding America estimates that 1 in 7 people in Alabama are facing hunger, some 746,550 people.

"In community deliveries, we see the impact Campus Kitchen has. With Meals on Wheels, we go door-to-door to deliver meals," Fitzgerald said. "Typically, they're elderly residents that are disabled and don't really have transportation or a way to get meals from the grocery store. I'll never forget, I handed six meals to this older male and he just gave me a hug and he was like, 'This is such a blessing. These meals mean so much to me.'"

Mobile Food Pantry
This year, Campus Kitchen is working on a new project to expand access to nonperishable food by piloting a Free Little Pantry on campus. They're working with Eagle Scout Ethan McCulloch to build the prototype.

"I learned about food insecurity in our community through the Scouting For Food program," McCulloch said. "I didn't know that the same problem existed in the college population until I learned about Campus Kitchen from a family friend. I hope that this food pantry will expand food availability to those in need on campus and in our community."

Inspired by the design of the free little libraries, the small pantry will have shelves stocked with nonperishable items supplied by the Campus Kitchen partnership with the Food Bank of East Alabama. The idea is that eventually community members will help to stock the pantry with donations and keep the community fed on a consistent basis.
"We plan on planting little food pantries around the community that are for anyone who needs food," FItzgerald said. "We're working with Ethan to build the first food pantry. It will give us an idea of how much it costs and we'll be able to see how it works in the community. Our hope is that by Tiger Giving Day we can have a goal in mind so that we can say how much money we want to raise to get the program off the ground."

Their current plan is to build five of the mobile food pantries and test how it works.

"We want to gauge how manageable it is," Fitzgerald said. "How often we need to refill them, where they are most needed. If it works, we'll add more. Right now we're laying the groundwork, partnering with the Food Bank of East Alabama to stock them and with a variety of nutritious food. Once it catches on in the community, we may not have to spend as much out of pocket to restock them because we'll have that community support. That's the hope! We want it to have a real, lasting impact."

Winner of the 2023 Fred & Charlene Kam "Human Touch" Service Award, Campus Kitchen is always looking for volunteers, community partners and those who are combating hunger. Visit their website to learn how you can help in the fight against hunger.